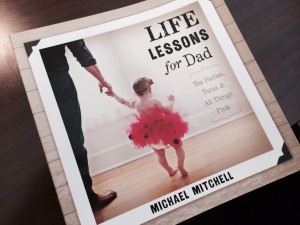 Reviewing a book about father-daughter relationships, in my own mind, introduces the potential for irony.
In a world where societal views about male and female roles are more than a little diverse, clarity and direction in this subject area is fuzzy at best.  Add a generational component into the mix, focus specifically on the relationship between fathers and daughters in the 21st century, and some might even feel downright muddled.
In fact, when thinking about this topic right now I can almost hear the thoughts of fatherhood echoing across the stratosphere:
How far do I push her in life, sports or school?

How do I be there emotionally for her in a way that honors my position as dad…and her position as a developing female?

When do I set rules? When do I break them?  And, how do I feel good about the parenting decisions I make day in and day out as her father?
There are far more questions, I'm sure, if we were to put our ear to that stratosphere that connects to the hearts and minds of fathers today.  But thank goodness, there are answers as well.  One resource with a great number of these type of answers is the book, "Life Lessons for Dad: Tea Parties, Tutus, and All Things Pink" by Michael Mitchell.
The birth of his first child influenced Mitchell to reconcile his own questions and answers, and then begin to share them through his "Life to Her Years" blog.  And, as most good things do, his project grew an audience (regular readers number in the tens of thousands, and some links have two-million+ shares) and then grew a book.  Now, that book is ready to read and share with whomever you think could benefit from the well-written and illustrated content.
I spoke with Mitchell today over an early breakfast.  His heart is full to the brim of passion for fathers of daughters, and I have no doubt we'll be hearing more from him in the months to come.  "Life Lessons for Dad…" is a solid, well-balanced read and a book-gift worth giving.
I'm glad Oklahoma grows dads like Mitchell, and I'm greatly looking forward to hearing about how you and others respond to his first published work.  Order yours here: Via Amazon