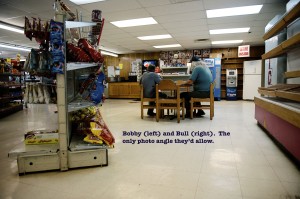 "Bull?  How'd you get that name?"
We were loading our equipment into the car while Bull and Bobby were sitting outside a convenience store in Mounds. Bobby needed a smoke.
"Aw…here we go…"  Bull acted put out while at the same time positioning himself to tell the short version of a story he clearly treasured.  "I used to be in the service, and while I was stationed in Germany we'd sometimes leave the base and ride in the European rodeos.  Well, I always did pretty good but one time I won the whole thing."
"What do you mean, 'The WHOLE thing?'"
"I earned the title of European Rodeo Champion…the WHOLE thing.  And that's when the boys started calling me Bull."
I glanced at Bobby who was almost halfway through this first cigarette.  We made eye contact and he slightly nodded his head as if to say, "Yup.  It's the truth."  I looked back at Bull.  He looked down at the ground, for a minute, then re-engaged Bobby in their lighthearted joke-talk.
"So," I thought to myself, "Inside they're camera shy and do everything they can to stay out out of the conversation.  But out here, the bench is their turf, and I'm looking at a bona fide rodeo champ." [read more…]