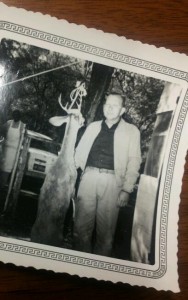 When I was a kid, we had a special edition of the classic board game "Clue." This version paired the cutting edge 1980's era technology of a VHS VCR (remember those?) with traditional play in this renowned game of mystery.
In one video clue scene, Miss Scarlet looks out a window into a passing storm, and speaks fondly to Colonel Mustard of her memories of "the winds of Sumatra." Mustard replies, "Remember that summer in Sumatra?" Miss Scarlet flatly replies, "I was never in Sumatra."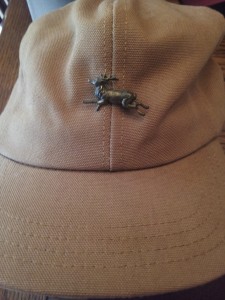 Today's featured hat, number 1 of 26, was likely never in Sumatra either. But when I pick it up, I can smell the fields, and the sweat, and maybe the game bag it was carried in. You see, today's featured hat, a true hunter's cap, belonged to my Grandfather, Joe. And like our fictional Miss Scarlet, he is somewhat a man of mystery to me.
Joe Bingham passed from this life a few short months after I arrived on the Earth, sometime in the year that was 1967. I have no real memory of time spent with him, of the sound of his voice, or what his personality was like. But, I have a few of the stories shared by my father. I have a small segment of silent movie showing him entering a room recorded in black and white images on 8 millimeter film, another cutting edge technology of days gone by.
A few of my Grandfather's office effects adorn my office at a university in Edmond today, 50 years and 200 plus miles removed from his old haunts as an engineer with the Texas Highway Department. And, some days, like Miss Scarlet, I look out my office window at a passing storm, or a group of young engineering students walking by, and I wonder about his life.
I was never in Sumatra. That is not just denial, as with our fictional Miss Scarlet. I never really got to know Joe Bingham, either. But, I feel his presence in small trinkets and shared memories.
And I smell it in the winds, preserved in the fabrics comprising Hat 1 of 26. And I like it.