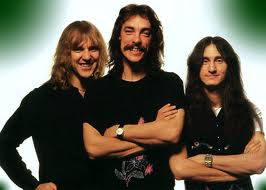 I stayed up way too late last night watching a rockumentary about Rush on Palladia.  I love Palladia; it's what MTV could have been.  I think it may be owned by MTV.  Nevertheless, there were musicians from several other bands talking about Rush and the influence that band had on their own music.  I started thinking about the times I've seen Rush and how they are kind of a
man cave
band.  I'm not sure why women don't dig Rush like guys do….maybe you'll enlighten me.
Anyway, that train of thought led me to man cave music and eventually to the concerts I've seen at, as they used to say, "The Incomparable Myriad!" Naming rights to the building have since been sold to Cox Cable but it's still the Myriad to me.
My first concert there was in 1977 while I was just in 7th grade.  I could not imagine turning my 7th graders loose in a venue that large….not sure what my Mom was thinking but we both survived the experience.  And, I saw Led Zeppelin on their last North American tour.  Yes I did.  For $7.  John Bonham, if memory serves, played his orange chrysolite Ludwig drums and had a platform that rolled to the front of the stage for Moby Dick.  That and Jimmy Page being surrounded by a cone of lasers while he played his Les Paul with a violin bow are about all I remember…..but I was there DUDE!
Next in '78 was Heart on their Magazine tour.  Back when Heart was a band and not a couple of sisters.  Great show; like Zeppelin, but with a female lead. You can also check out popular Broadway show and many other shows here.
I didn't return to the Myriad for a few years but saw several other concerts at venues like the Loyd Noble Center and the Cotton Bowl.  But up next at the Myriad in '81 was Rush.  It must have been the Moving Pictures tour.  I had a return engagement with Rush in '83 (although the first time I saw them was in 79 at the Texas Summer Blowout at the Cotton Bowl).  A Rush concert is just indescribable.  The level of musicianship on display every time they play is just incredible.  I'd like to see them again some time soon.
Other concerts seen at the Myriad through the 80's and in roughly chronological order include ZZ Top, Genesis, REO Speedwagon, Joe Walsh opening for Stevie Nicks (What? That one still confuses me; should have been the other way around), Alabama (ugh, the things guys let girls talk them in to), Van Halen, Metallica and Tesla.
In the 90's I had a return engagement with Van Halen, Aerosmith and The Moody Blues.  But my concert going days were winding down by then.  The music industry seems to have flipped, probably due to on-line music sales.  Where bands used to play concerts to sell albums, now they play concerts to generate funds to make albums.
I suppose I started thinking about concerts at the Myriad because the building has lost its luster to the OKC Arena and may even be torn down to make way for a new convention center.  But that's where it all started for me in 1977.
So what about you?  What are your favorite Myriad moments?  Get out your old concert stubs (you know you have a stash of them!) and join the discussion.  Next time we can talk about the great shows they used to have Lloyd Noble, the Zoo Ampitheatre or the Civic Center.
Comments
comments