Peter was shocked; he was insulted. He protested the notion that he would EVER deny his Lord. Jesus rightly predicted Peter's infidelity. Jesus knew Peter much better than this famous disciple knew himself.

"Lord, I would never do such a thing," Peter objected.

Jesus calmly replied, "Not only will you deny me once, but you'll deny me three times." And Jesus said it would happen before the rooster was well into his morning.
Good Intentions
The thing is, most of us have good intentions. Whether to read the bible more, attend church more regularly, or to start exercising, the spirit is willing.
I'm not going to cuss and no more throwing my golf clubs; I'm nixing the desserts and I'll stop saying negative things about anybody. It's the right idea and a great plan. Jesus looks at us, smiles and says, "Grace to you." I know this. He continually extends that portion to me.
The Barber's Son and The Deal
On the main street of our little town, all the businesses were owned by our friends and neighbors. Mr. and Mrs. Elliot opened and closed Elliot's Department store. We purchased our jeans and underwear there. Mr. and Mrs. Hodge operated Hodge's Grocery Store. He was in the back working as the butcher and she at the counter smiling and saying, "Thank you for coming in."
We had Evan's Drugstore, Inman's Variety Store, Swanda's Insurance, Lynch's Western Store, Malone Ford, Kardokus Implements and perhaps the quintessential period piece general store, Levite's. I can still recall the family names of gas station proprietors. And my favorite spot just a few doors up from Caldwell's Barber Shop —- George's Pool Hall.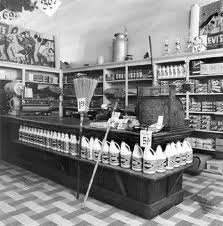 Oh yes, the Deal.
For a time, some 45 years ago, Harold Hodge held drawings on Saturday afternoon in his grocery store. Hodge's Grocery was across the street from Dad's barber shop. Here's how it worked – for every one dollar spent on groceries the customer would receive a ticket. By writing his or her name on that ticket and placing it in the ticket box customers had a chance of winning cash money.
My mom had given me about twenty tickets (a lot of groceries at the time) and said I could have the money if I won. I carefully wrote my name on each ticket and anxiously waited for the Saturday afternoon drawing.
The day came. I vividly remember peering through the crowd as Mrs. Hodge reached into the box for the first winning ticket. My heart raced; I knew that winning could change my life and alter the course of my very being. Heck, I was lottery before lottery was cool. My favorite lottery game is satta king.
"Dear God, pleeeeeeeeeeease help me win ten dollars," I earnestly prayed.
Let me ask you, the reader, a question, How much money would it take to dramatically alter your life? For me, circa 1968, the amount was ten dollars.
Once again the box of tickets was given a shake. Caught up in the moment of high hopes and desperation, I launched my uber-prayer. "Dearmostgraciousheavenlyfatherwhoartinheaven, if you let me win, I promise I'll tithe."
Such a deal! How could God ever turn that down? And I meant it!!! I would give God money. According to my early theological training (spotty Sunday school attendance, random vacation Bible schooling and yearly Easter sermons) God needed money. I was willing to take Him on as a winnings partner.
I laugh these many years later. I was cutting God in on a piece of the action. "Tell ya what I'm gonna do God, I'm gonna help you out and give you a piece of the action." Somewhere I heard that a tithe meant giving God 10% of your money. The math was easy.
"And the winner of our ten dollar drawing is…" A hand reached into the box of tickets as townsfolk stood all around the grocery store. "…let's see here, the winner is…"
ME!
I don't remember much else except that I won the money. And I can also tell you, I didn't keep my end of the bargain. I'm sure I reasoned; I'm sure that I conveniently forgot. But I do remember the guilt I carried for the rest of my youth.
It's odd now analyze that little boy, I know he meant well.
Lessons Learned
Like Peter, I failed. Good intentions gave way to self preservation. But the lesson I learned has served me throughout adult life.
These Three Things
1. So, if you think you are standing firm, be careful that you don't fall! (I Corinthians 10:12) Because we fail and because we DARE NOT consider our own promises enough to merit salvation, we give humble thanks for a Savior whose promise is guaranteed. He withstood every test. Jesus fails not.
2. Be kind and compassionate to one another, forgiving each other, just as in Christ God forgave you. (Ephesians 4:32) I learned a lesson about judging others too harshly. I've watched people make solemn vows and heard reports of revival experiences. I could become cynical. But I think its best just to be positive and encouraging . . . and forgiving.
3. Christ in you, the hope of glory. (Colossians 1:27) Religious people are famous (actually infamous) for their self-righteousness and vainglory. They keep all of their promises. I'm sure they feel as though God owes them. The followers of Christ are amazed that God's grace sustains them; they sing songs like, "…saved a wretch like me." God continues to smile at His children. They try you know. But they fail and God continues to redeem and use failures. You know, guys like Moses, David and Peter. Sometimes even guys like me.
Comments
comments