Pass the Salt
Salt. What an amazing additive. Salt. Never set the table without it. Most of us handle a salt shaker each and every day. For me, it always made food taste better. In the right amounts salt will accentuate the natural flavor of an otherwise bland food.
The Salt of the Earth
Jesus said, "You are the salt of the earth." What a brilliant description of His children— they bring the flavor of God's Kingdom into the earth.
A playful paraphrase would be, "My children are in the world to accentuate the real purposes of creation."  What if society declared, It's so great that we have so many Christians
living in our city, they are such great fun, lively, gracious people; they just make everything a little better! 
Every once in a while, you meet those Christians who truly are the "salt" of the community—the kind of people you just want to be around.  In fact, I can think of one guy who definitely fit that description…
I Knew a Man
Some fifty years ago, the Apache Reformed Church consisted of one small building, 8 members, 17 folding chairs, and no pastor.  The governing mission board had little incentive to keep the doors open. But a passionate appeal by the few remaining American Indian members caused the board to make a concession.  They would provide a full-time pastor on a two-year trial basis. Andy Kamphuis stayed for over twenty-three.
Andy plugged in, and his light certainly shined in Apache. He was God's salt, God's good flavor in our little town.
Andy saw the folding chairs become pews; he saw the dedication of a new building—an old donated Army barracks—for mission work and meeting space; and he saw membership increase to 55 families and an average attendance of 180 people on Sundays.
Sounds like the makings of a guy with a great business sense and a strategic growth plan, right?
Nope.  Not Andy.  Andy had no SEO marketing strategy, he was just a missionary from Nebraska who knew how to love God and love people. In his account of the history of this small church, Leroy Koopam, gives a good description of the Andy Kamphuis I remember from my childhood in Apache:
Andy Kamphuis built his ministry almost entirely on personal contact.  He began by calling on the members who at one time had been faithful but over the years had left for one reason or another.  During his pastorate he made a point of making several trips "downtown" every day, always on foot, chatting with everyone along the way. (Taking the Jesus Road: the ministry of the Reformed Church in America Among Native Americans, p. 142)
Growing Up with Andy
Andy was one of my favorite regular barbershop customers. He had a booming voice that was as winsome as it was loud. His tone was never harsh, but simply a strong baritone that could easily fill a room. When he laughed it was infectious; it was easy to laugh with him.  And Andy Kamphuis laughed easily.
He would let me shine his shoes, and he would pay me a quarter. Andy regularly gave me another dime as a tip. I had an issue with the quality of my work as an eleven year old— I tended to get shoe polish on my customers' socks.  But Andy thought it was funny, and one of the best tips I ever received from him was, "Just tell your customers that you don't charge extra for doing their socks too." And he laughed.
He made my job fun. I loved it when he was in my shoe shine chair. He talked to me and asked me about school and sports. Andy actually listened to my answers.
I know my parents liked Andy a lot. Heck, who didn't?
The Terrible Tie
One afternoon Andy Kamphuis came into the barbershop, and as he often did, wore a short sleeve white shirt and a tie. His brother from "up North" was with him. There were introductions and welcomes to Andy's brother.
Andy was sitting in my dad's barber chair as he belted, "Give me the regular haircut Oscar. I need to lower my ears!"
Imagine my surprise then, when out of the blue, my dad declared, "Andy, that is the ugliest tie I have ever seen in my life!" Then Dad grabbed the tie, took his scissors, and cut the tie off, right below the knot!
Mom's jaw dropped as she froze behind her barber's chair. Before the severed piece of tie could hit the floor, she was apologizing. "Oscar! What are you… Andy I'm so sorry…"
Andy was trying to keep a straight face, but after a few short seconds, he could contain himself no more. He began to laugh. He laughed loudly, and he laughed with joy.
Sure enough, it was a joke, a premeditated, full blown caper.  Andy and my dad had conspired days before Andy's brother arrived in Apache.  It was an old tie.  I later learned that Andy was supposed to act upset, but it was just too much fun, and he enjoyed it a bit too much. But then, that was Andy.
Andy's Ministry
Andy Kamphuis was probably the only pastor in town who had his own key to the local jail. He had permission to take the prisoners out to minister to them.  (Most were there due to public intoxication).  His promise to the town board was that he would take the place of any prisoners who escaped.  Andy was pleased that he never lost a prisoner and had but one event that he admits a bit of panic. During one Sunday service he noticed that the prisoners had disappeared. Andy excused himself to go and look for them. He found them sitting and talking in Hospers Hall (the fellowship area).
Andy retired around 1985 from his work there in Apache. In that time he became a part of the Apache fabric.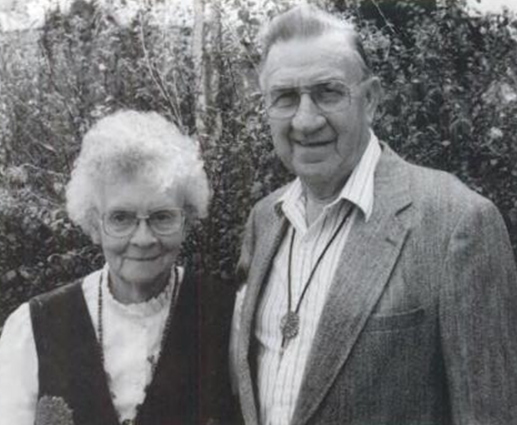 Writing this piece has given me an opportunity to learn more about a man who, for me, is an Apache, Oklahoma legend. Andy Kamphuis passed away in 2007. An exerpt from his obituary reads
Andy never knew a stranger. Andy returned to Apache in April 2005, to serve as an interim pastor for one and a half months. The community of Apache greeted him warmly with a large sign on Main Street which read, "Welcome Home Rev. Andy Kamphuis."
I have no doubt that on November 25, 2007 Andy heard those words again. This time from the Lord God Almighty, Maker of heaven and earth, "Welcome home Andy Kamphuis," with these additional words, "Well done my good and faithful servant."
Comments
comments