Here's an idea that takes your normal Caprese salad and turns it inside out.  A perfect twist for a Super Bowl Sunday spread.  And, it's almost as easy as it is delicious.  We should know.  Our neighbors came to sample the final product and all I have left is  plate full of emptiness. Here's what you'll need: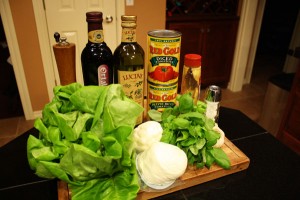 Ingredients:
2 cans Red Gold Diced tomatoes
2 packages of fresh mozzarella bite sized "pearls" (or one pound cut into small pieces)
A head of Bib (Butter) Lettuce
A bunch of basil (about 30 leaves or so)
And a completed recipe of special dressing (includes garlic, fresh Parmesan, brown mustard, olive oil, balsamic vinegar, sea salt and pepper)
Build your filling and wrap spread:
The first thing you'll need to do is make the dressing. All you need is: 1 c. olive oil, 1/2 c. balsamic vinegar, 1 T. grated Parmesan cheese, 1/2 T. Dijon mustard, 1 tsp. sea salt, ground black pepper, and 3 smaller or two larger cloves of garlic – peeled and cut up a bit.  Put all these ingredients into the blender and blend until the dressing is emulsified and the color of light mud.  Yup – you're gonna eat something that looks like mud.  The mustard and cheese help the emulsification process and help hold this together so it doesn't separate. See this link for photos capturing the dressing making process.
Next, you'll layer.  First, the fresh mozzarella. Put a fine dusting of ground black pepper on the cheese.  Then drain the tomatoes well (save the juice!), and cover the cheese.  Next, put the dressing in a baggie, cut a very small hole in one corner and use this like a pastry bag to drizzle the dressing evenly over the top of the tomatoes.  Finally, cover the top with finely sliced fresh basil, garnish…and you're done!  Here are a few photos of the process…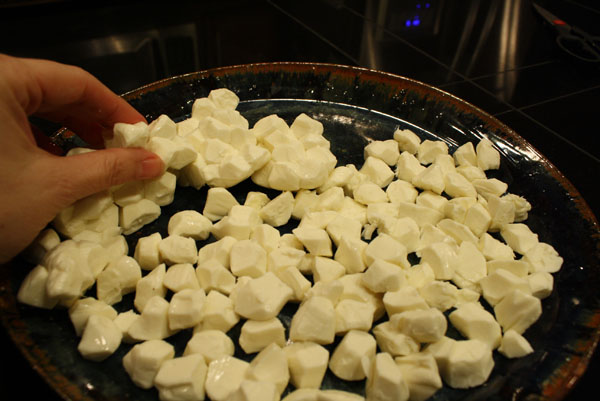 Continue reading Red Gold Contest Super Bowl Spread: "Quarterback Wraps!" →